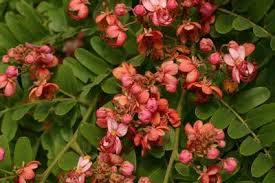 Botanical Name: Cassia Marginata
Synonyms: Cassia marginata Roxb. (syn. C. roxburghii DC)s
Common Name: Red shower tree, red or rose cassia
Seeds collection period: Oct- Dec
Seeds longevity: 1-2 years
Description:
A small or middle - sized tree. Branchlets and young leaves silky.
Leaflets 10 - 15 pairs, membraneous, glabrous above, oblong, emarginate and apiculate at apex, pod cylindric, 8-12 in long.